Events and Happenings at The Seagate
Mark your calendar for these can't miss Delray Beach events.
Hotel Activities September
There are so many things happening on our properties, you don't want to miss out! Click below to see our September Activities Booklet.
Learn More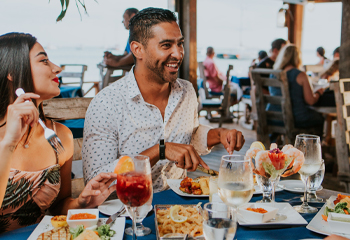 Flavor Palm Beach
Join us for the entire month of September as we participate in Flavor Palm Beach with special prix fixe menus available at lunch and dinner.
Lunch $25 | Dinner $45
Read More
Lunch Appetizer
(Select 1)

Watermelon Salad
Arugula, feta, cucumber, mint, lemon & honey vinaigrette
Crispy Coconut Shrimp
Fruit salsa, orange marmalade
Fried Green Tomatoes
Arugula, southern succotash, sweet corn aioli
Lunch Entrée
(Select 1)

Grilled Chicken Bowl
Quinoa, faro, avocado, almond, sweet potato, maple vinaigrette
Shrimp Soba Noodle Salad
Shredded carrot, peppers, scallion, mint, cilantro, peanuts, Asian vinaigrette
Steak Frites
Parmesan fries, compound butter, demi-glace
Lunch Dessert
(Select 1)

Key Lime Crème Brûlée
with coconut macaroon
Dinner Appetizer
(Select 1)

P.E.I. Mussels
Coconut curry broth, kaffir lime, peanuts, grilled bread
Shrimp Bruschetta
Arugula, tomato, basil, balsamic
Tomato & Watermelon Gazpacho
Feta, mint, toasted pistachio
Dinner Entrée
(Select 1)

Cioppino
Clams, mussels, shrimp, fish, orange & fennel broth, grilled crostini
Fettuccini & Clams
Artichoke, tomato, spinach, garlic, lemon, herbs
Caribbean Chicken
Coconut rice pilaf, sweet potato, mango slaw, honey & pineapple glaze
Summer Vegetable Risotto
Aged parmesan, lemon, herbs
Dinner Dessert

Key Lime Crème Brûlée
with coconut macaroon